Black & Red Bash Information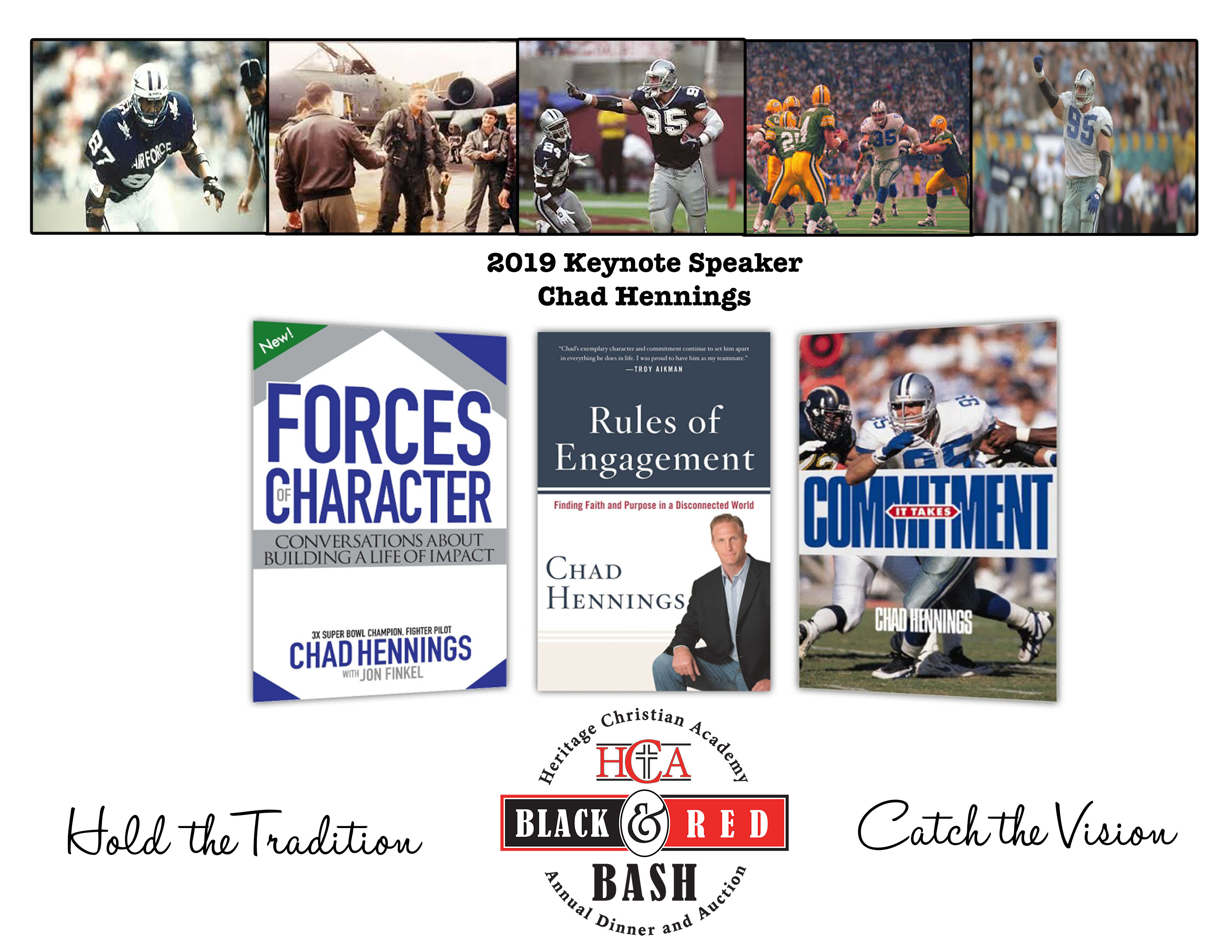 ---
Event Details & Description

What
The Black & Red Bash, an annual Spring event for HCA, where friends and family come together for good food, great company, and to raise money for the school. The Black & Red Bash is a fun evening including dinner, entertainment, live and silent auctions, as well as exciting drawings for items such as half-off tuition for next year, and more. All proceeds raised benefit HCA and its educational programs.
We are thrilled to have Chad Hennings, three time Super Bowl Champion with the Dallas Cowboys, Air Force Academy graduate, who flew forty­-five successful combat missions, and is one of the most decorated college football players in NCAA history join us as keynote speaker. This year, we will have last year's games favorites, such as the "Ticket to Win It" game, and the "100 Wins" board. Also, be a part of the" Fund-a-Cause" and help support some specific new school programs. The new Incredible Edibles, Holiday, and Live Garden auction sections will surely be exciting. Also, try your bidding skills at the "Big Board" for our not-quite-live items. Lastly, for those with elementary age children needing childcare, no worries, we have a pre-registration and fee-based option to take care of that at the venue.
When and Where
The Black & Red Bash will take place on Saturday, March 30th, 2019, 6:00pm, at the Hilton Lakefront in Rockwall. HCA families with two pre-paid Bash tikets from the 2018-2019 enrollment packet must register through the following link to reserve your seats. Tickets for purchase are also available at this link. Tickets are $75.00 each. 2019 Black & Red Bash Reservations
2018 Results
This event has always been one of the most successful fundraisers for HCA, and in 2018, that proved to be the case once again. The school raised a net profit of over $140,000! Due to the generosity of our donors, volunteers, attendees, families, staff and friends, money raised has gone a long way toward furthering our mission.
Thank you, and Glory to God!
How You Can Help
Attend the Event:
The most important thing you can do is attend the event, and not only attend the event but also invite your friends and family to join as well. This is not a closed event; it is a great way for the parents and supporters of HCA to gather for a evening of food, fellowship and fun.
Donate An Auction Item for The Event:
Another way to help make this event a huge success are donations and event sponsorships from families and friends. All donations and sponsorships are tax-deductible, and no item is too small.
A great way to help to is talk to friends, family or businesses that you frequent and ask if they could donate an item, gift certificate or service. From a free massage to a time share in Florida and everything in between, these donations make a huge impact on making the Silent, Big Board, and Live Auction portions of the evening and overall event successful. Did we mention the donation is tax-deductible? Also, for every item you have donated, your name will be entered into a drawing for half-off a tuition! To sponsor the event or donate an item, you can pick up an "Auction Agreement" from the Front Office, the Development Office or download PDF here. Return it filled out with your check or item to the school office. More information on the different sponsorship levels can be found on our Sponsorship page.