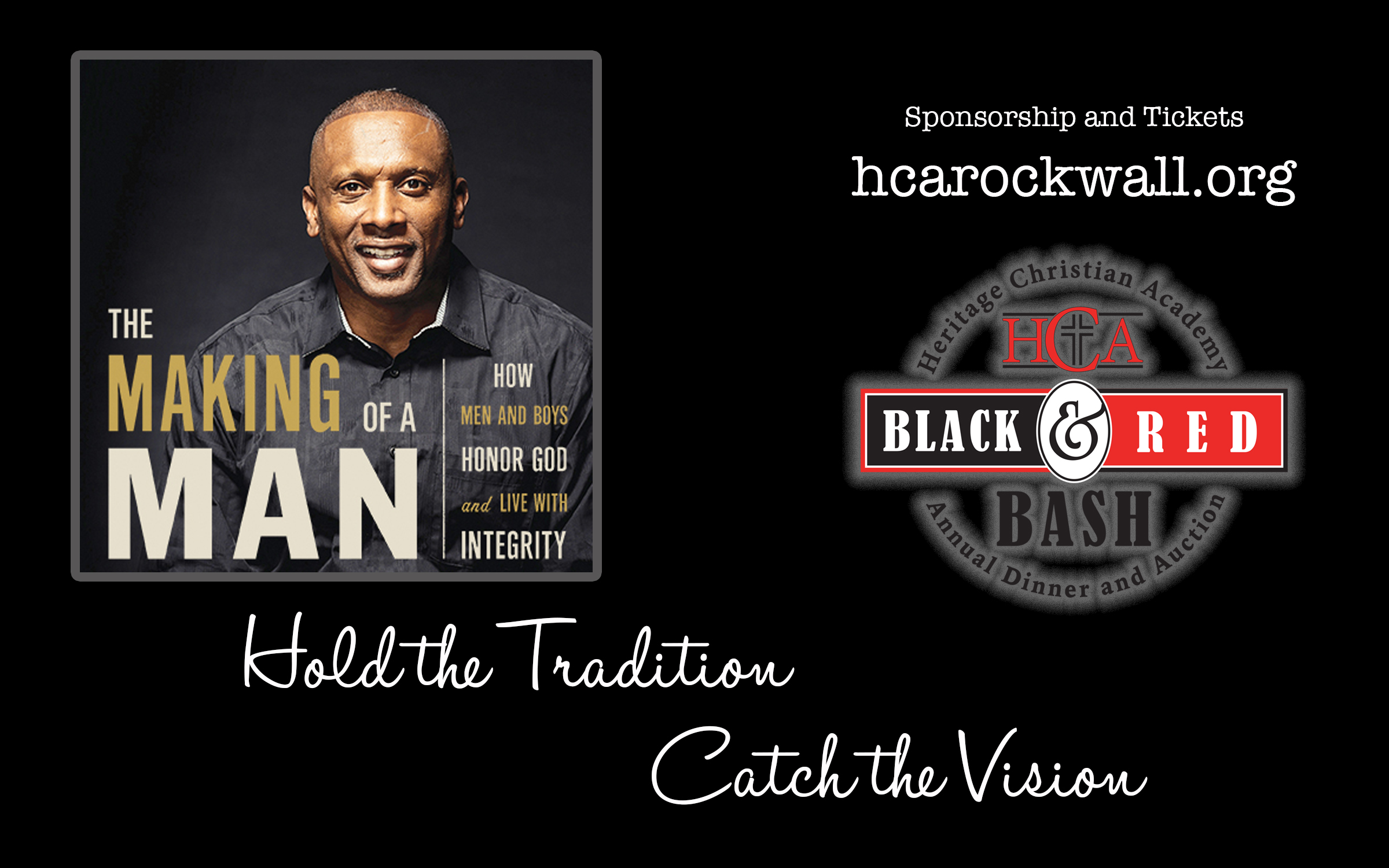 Tim Brown Delivers a Resonating and Inspirational Message
Something spectacular happened in Rockwall on April 7, 2018.
The year's Black and Red Bash, held for the first time at the Hilton Lakefront Hotel in Rockwall, was a monumental success. The mood was festive and uplifting, with more than 300 people in attendance for Tim Brown, Heisman Trophy recipient, former Oakland Raiders wide receiver, and NFL Hall of Fame inductee, as he took the stage to share his inspirational story and testimonial.
"What a great night we had in Rockwall," says Dr. Brad Helmer, "Heritage Christian Academy isn't just a school in Rockwall, we're part of the fabric of the community. For us, giving back to and supporting the community and the greater good is part of what we stand for. The Black and Red Bash is a good example. Everyone in attendance walked out of the event standing a little taller than when they arrived, myself included."
What began as another annual event for HCA turned out to be HCA's most successful fundraiser to date, netting the school more than $140,000. HCA will continue to use these donations to further enhance the student experience at HCA.
"Using proceeds from the Black and Red Bash is just one of the ways HCA extends new opportunities and experiences to our students, and in doing so, adds value to the community," says Dr. Brad Helmer, "The evening was a huge success. We are grateful to Tim Brown and everyone who attended and I'd like to thank Jennifer Pool, HCA's Development Coordinator, and all the volunteers who worked tirelessly to ensure it would all seamlessly come together."
We are grateful for all the support and generous giving on the night. Our goal, to always be continuing our mission of serving God through the work done here at HCA. With thanks to all who gave, HCA will continue to provide a Christ centered, college preparatory and family focused education to the families of this community in an even stronger way than ever before.
We look forward to even greater blessings next year! So mark your calendar now for the 2019 Black and Red Bash on March 30th, 2019.
---
Event Details & Description
What:
The Black & Red Bash, is an annual Spring event for HCA friends and family to come together for good food, great company, and to raise money for the school through a live and silent auction. The Black & Red Bash is a fun evening including dinner, entertainment, live and silent auctions, as well as exciting drawings for items such as half-off tuition for next year, and more. All proceeds raised benefit HCA and its educational programs.
What's New:
This year, there are some exciting additions. We are thrilled to have Tim Brown, Heisman Trophy Recipient and NFL Hall of Fame Inductee, join us as keynote speaker. Additionally, we will have some new games such as the "Ticket to Win It" game, and you can buy a square at the "100 Wins" board. There will also be some "Fund-a-Cause" options to support some specific new school programs. Also, try your bidding skills at the "Big Board Auction" for our not-quite-live items. Lastly, for those with elementary age children needing childcare, no worries, we have a pre-registration and fee-based option to take care of that at the venue.
When/Where:
The Black & Red Bash will take place on Saturday, April 7th, 2018, 6:00pm, at the Hilton Lakefront in Rockwall. Tickets are $75.00. Tickets are available for purchase through this online link: https://payit.nelnet.net/form/03PppoGo
2018 Results:
This event has always been one of the most successful fundraisers for HCA, and in 2018, that proved to be the case once again. The school raised a net profit of over $140,000! Due to the generosity of our donors, volunteers, attendees, families, staff and friends, money raised has gone a long way toward furthering our mission.
Thank you, and Glory to God!
---