1 -- All tuition must be paid in full by FACTS draft on April 20, 2019.
2 -- Payable by FACTS draft on April 20, 2018 - [April 20, 2018 draft is for families who enroll before April 10, 2018. From April 10, 2018 monies will draft out on the 20th of the following month. (Example: April 10, 2018 enrollment date will draft on May 20, 2018)]
3 -- This ACTIVITY FEE amount includes the 5th grade Waco overnight field trip and the 6th grade trip to Pine Cove. No additional fundraising or payments will be required of students for these events. Chaperones may be charged an additional fee.
4 -- Self-contained Learning Lab students will be charged an additional fee based on the needs of each student.
NOTE: All enrolling families will receive two tickets to the 2019 Black & Red Bash.
---
Athletic Fees For Secondary (7th-12th Grade) Students**
**These fees do not cover any items coaches or sponsors may require the students to purchase, such as shoes, practice uniforms, pads, costumes, or equipment. Fees will be billed by FACTS incidental billing when rosters are finalized by the Head Coach**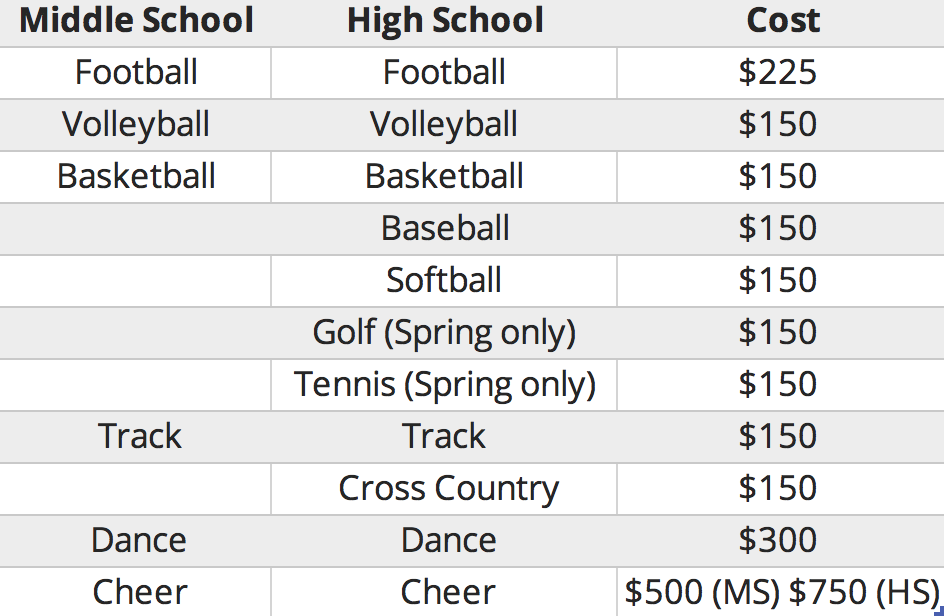 ---
Childcare Fees

Before and after regular school hours childcare is available to students 6th grade and younger. Before school care is 7:00 am-7:30 am and After school care is 3:30 pm-6:00 pm. Payment will be made by FACTS Draft on the 20th of the following month.
Before school care AND after school care (1) $290/month $35/day
Before school care ONLY $190/month $12/day
After school care ONLY (1) $235/month $23/day
(1) -- A charge of $1 will be added to your account for every minute past 6:00 pm you are late picking up your student from after school care.
---
2018-2019 Incentives & Discounts

Student Recruitment Incentive
Any HCA family that recruits a new family will receive a 10% discount on their youngest student's tuition bill for the number of months the new recruit paid during the first year only. Multiple discounts allowed; if you recruit 10 new families for next school year, your youngest student would have a $0 tuition bill for the 2018-2019 school year (if all 10 recruits paid all year). Incentive discounts only apply to the first year the recruited family attends. All tuition assistance must be paid back to HCA before this applies.
Discount For Large Families
If you have at least 3 students enrolled at HCA, you will receive a 10% discount on your youngest child's tuition bill, for as many years as you continue to have 3 students enrolled.
Tuition Prepayment Discount
A 3% tuition discount is available on any student tuition account that is paid in full through FACTS on April 20, 2018. There are no exceptions to this deadline.
Ways To Pay Your Tuition
OPTION 1: Payment for the full year tuition will be deducted by FACTS on April 20, 2018 at a 3% discount.
OPTION 2: Payment by semesters will be deducted by FACTS on April 20, 2018 and November 20, 2018.
OPTION 3: FACTS/Monthly tuition payments must be completed by April 20, 2019.
Payment Methods: FACTS e-check or FACTS Credit/Debit with an extra fee.
Delinquent Accounts
All payments are considered delinquent when tuition or fee payments are not received as defined in the Contract of Enrollment. Additionally, an account is delinquent when charges invoiced by the Business Office are not paid as set forth on the monthly family account statement by the 20th of the following month.
ALL DELINQUENT ACCOUNTS WILL BE CHARGED A FEE OF $20.00 PER MONTH.